Lech Lecha, Go Forth:
Fight for Immigrants' Freedom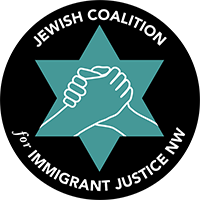 Immigrant Bond Fundraiser
When: November 16, 2019, 6:30-9pm
Where: Bet Alef Meditative Synagogue at Seattle First Baptist Church
1111 Harvard Ave. Seattle 98122
Event Information contact: goforth@jcijnw.org
When ICE detains immigrants, they're held in prison-like conditions for months unless they can post a bond for as much as $25,000 or more. This creates a hardship for families and communities. Many detained immigrants just give up and allow themselves to be deported, even if they have a good chance to win their cases.
Your tax deductible donation to Fair Fight Immigrant Bond Fund gives them a fighting chance. Individuals have an estimated 70% increased chance of winning their case if they are bonded out of detention. Your help will enable detained immigrants to be freed from the horrendous conditions in detention, go back to their lives and be reunited with their families while their cases are pending.
Prefer to donate by Check?
Please make checks payable to WAISN, write Fair Fight Bond Fund/JCIJNW in the memo and mail to:
WAISN
13838 1st Ave S
Burien WA 98168
For any donation-related questions please email info@waisn.org.